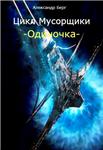 Young guy falls into the clutches of traffickers agarskih because its no hurry to release, we have to do it myself, as the rescue of drowning only thing drowning. The book is part of a series of individual works Scavengers. (Universe EVE online)
Author text format MS Word, spelling is not checked.
11.10.2015 20:56:02
Отличный автор
15.08.2015 2:44:58
все получил.
25.07.2015 16:08:13
Очень хорошая реализация темы, но автору есть ещё о чем рассказать. Ждём с нетерпением.
17.04.2015 12:15:45
Интересная книга.