Content: text (0 symbol)
Available: 0
Uploaded:

Positive responses: 33
Negative responses: 0

Sold: 3044
Refunds: 0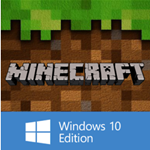 DESCRIPTION:
Build a variety of facilities: from quick shelters to grand castles! Create and explore your own world, limited only by the limits of your imagination, but do not forget to build a shelter before the night comes to protect you from monsters. Find materials and make tools, accessories, food and weapons that will help you survive. During the existence of the game, millions of players around the world broke billions of blocks - and now you can join the army of fans of this cool game on your Windows 10 device!

FEATURES:
• Now you can play in a multiplayer mode on the local network with 4 friends using Minecraft: Pocket Edition on devices with different platforms.
• Play the beta game online in multiplayer mode with 4 Xbox LIVE friends, wherever they are.
• Improve your equipment with special effects applied to the tables of enchantments.
• Switch between your favorite input methods without any problems - you can activate and start using a controller, touch screen or mouse with a keyboard in seconds.
• Record your achievements and share them online using the Xbox Live "Game DVR" app.
• Use unlimited resources in "Creative Mode" to build everything you can imagine.
• Get valuable resources, make tools, take part in exciting adventures and defend against night creatures in Survival Mode.
• Immerse yourself in a huge world with new, improved weather effects — accumulating snow, softer transitions, and even SNOW THREAT.
• The game also includes chickens, zombies, pigs, boats, armed skeletons, potatoes, squid cubs, enchanted items, villagers, naked sheep, iron golems, potions, pastas, picks, carrots and much, much more.

Note. For the sake of clarity, we announce that the worlds / save files from the Minecraft version for Java PC / Mac are incompatible with the Minecraft version for Windows 10!
1. Minecraft Windows 10 Edition is available ONLY FOR WINDOWS 10!
To use the key, you need to upgrade your OS to Windows 10.
2. To activate the key, follow the link -
https://account.microsoft.com/billing/redeem
, enter the received key after the purchase, now you have an activated license.
27.02.2019 6:50:47
Работает
24.02.2019 19:33:51
Не знаю как, но это сработало. За 100 рублей я получил майнкрафт.
24.02.2019 14:50:50
Все работает!

22.02.2019 14:53:41
Все работает
21.02.2019 19:09:50
Спасибо! Ключ получил, активировал!
21.02.2019 12:59:41
Все ключи работают :)
20.02.2019 21:26:05
Спасибо, всё получил С: