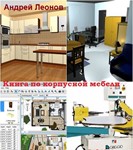 bstract of the author:
Over the past few years, I have come across the design of cabinet furniture with many people.
My clients were like ordinary people who wanted to update the interior of their homes, and
professional sellers of cabinet furniture.
This book will be useful as the first one who does not understand anything in furniture at all, and those who already
deals with the sale and / or manufacture of cabinet furniture.
Format: PDF (7865 Kb)
No feedback yet