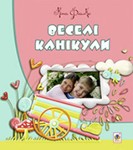 In the book "Fun vacation" I offer junior and middle age two stories. One tells of a boy who lives in a big city and do not know basic things, from
well aware that children in rural areas. To show grandson unobtrusive way to the knowledge of another, not his usual life, my grandmother leads him to pasture and introduces
pastuhom.V story you read about the various adventures and about how to make money on vacation, most importantly, have fun not only relax, but also to improve the knowledge of science
practical skills.
No feedback yet