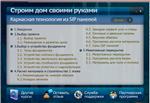 This video course reveals all the stages of building houses on the Canadian technology of SIP panels.


That will give you our video course?


Choose a project or project itself.

Choose wall structure and calculate the heat loss of the house.

Select foundation.

Properly build a house.

In the future, use this knowledge to build houses and cottages to their children, relatives and friends.




What are the advantages of Canadian technology?


Value 30 - 40% lower than conventional construction of bricks.

The pace of construction, at least 20 times faster than conventional methods.

Thermal protection: the house of SIP panels frame warmer 1.5 times and many times warmer than the brick, wood, silicate, etc. homes.

Energy-saving: saving (several times!) On heating.

Availability: construction costs are minimal.

Easy assembly: do not need special equipment.

Lightweight: does not need an expensive foundation, because Screw the foundation is set for 1 day! House of SIP does not shrink, so immediately after the assembly can start finishing work.

Build all year round.

Durability. The design life of 80 to 100 years.

30% more useful square meters. This is not a complete list of advantages of Canadian technology.


After payment you will receive a link to download the file. The amount of more than 2.5 GB
No feedback yet