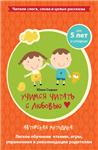 Author techniques - Julia Raw, designer, writer and mother with great experience. Here you can purchase the official electronic version of the book to be printed on your home printer.


From the author:

My name is Julia Raw. I am a teacher of Russian language and literature education.

Graduated Tauride National University, Faculty of Slavic Studies. By vocation - a designer, author and mother of two children. In this book, I want to introduce you to their methods of teaching reading, not as a teacher, but as a mother, based on

personal experience and existing knowledge in different areas. On the appearance of this book greatly influenced my main pro-

profession, which I have devoted more than a decade - the profession of designer and special sense of language, its nature, and personal parent

experience.


My method is simple to a disgrace. It is based on the fact that it is not necessary to complicate, but the most important thing that is useful to you - this is the benefit of patience and love. In the end, when our parents taught us to read them at all except patience, love, and ABC did not have to, no benefits.


I think you still can. Teach with love, praise the child, rejoice his achievements and you will succeed!

Write Did you like my technique, what improvements would you have?


18.05.2014 13:42:33
спасибо, Юлия
18.05.2014 13:39:24
интересная методика, думаю, подойдет и нам