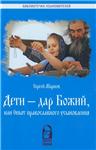 Very good small book written by an Orthodox man, who, with his wife, fathered several children. He says "as it was." Somewhere - a serious conversation, somewhere - with a touch of humor, somewhere - with sadness and bitterness the author tells of his experiences and the experiences of other families. The book is not campaigning and calls, it reflects life as it is, with all its light and dark sides, it calls to be responsible in making decisions that radically change the lives of at least two adults and one little man ...


In modern Russia, a huge number of abandoned children, and the problem takes on the character of national disaster. No matter what the conditions created by the state, no matter what the means invested in boarding schools, orphanages, still it does not replace the family. In the "breech home" can give a man a profession knowledge, but, unfortunately, with them often acquired and experience life unkind. Only in the family the child learns to love and live for others.


In this book, based on the personal experience of the author describes the difficulties faced by the adoptive family problems, where there is the adopted children, are useful (or just comforting) advice to people dared to take to the family of someone else´s child.
Instead of introduction

1. As this occurs

2. First Steps

3. Senja

4. Luntik or great comfort

5. Sim

6. Nikolai

7. Xenia

8. Hazards

9. Difficulties

10. To speak or not to speak?

11. "breech House"

12. Success and Failure

13. unsolicited advice adopter

14. Juvenile justice

15. Debts. Instead of conclusion

From family album
No feedback yet