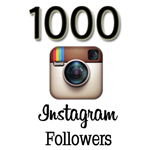 Details:
- Bots
- With avatars and publications
- Medium quality
- Write-offs during and after the wrap-up
- Good speed
- Quick Start
To promote your account you need:
a) Have at least 4 posts in the profile
b) Profile must be open
Immediately after payment you will receive a form to fill in the registration data, in which you will need to fill in the following fields:

- Email address (email);
- link to your instagram profile;
Data will be transferred to the seller to promote your account!
22.01.2019 0:05:11
Very nice seller!!!
07.11.2018 23:34:02
Супер!
31.10.2018 20:51:48
Good Job! Working
30.10.2018 23:33:23
Working, bought 4x already
30.10.2018 13:06:58
NICE! WORKING AS ASPECTED
30.10.2018 13:04:22
Working like shows on your toes
29.10.2018 23:03:15
Working
24.10.2018 18:14:50
Все топ, продавец хороший, отвечает на вопросы сразу и понятно.
11.09.2018 21:54:00
That´s good
12.08.2018 17:40:17
Service worked as advertised... Great Seller