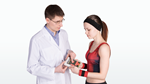 Electronic tests. 2018. 15 s.
This file includes: two electronic tests in Microsoft Excel format, a spreadsheet of full calculation of test results on scales, a questionnaire form (66 and 66 questions), keys, a general interpretation of the test.
The 1st test. Questionnaire "Level of Compliance" for people suffering from chronic diseases.
2 nd test. Questionnaire "Level of Compliance" for healthy people.

Source: Kadyrov, RV Questionnaire "Level of Compliance": monograph / RV Kadyrov, OB Asriyan, SA Kovalchuk. - Vladivostok: Mor. state. Univ., 2014. - 74 p.

System requirements: minimum system requirements - processor with a frequency of 233 MHz, 64 MB RAM, 50 MB of free disk space, compatibility with Microsoft Windows 98, 2000, XP, Vista.

Center for Psychiatric Care and Professional Psychophysiological Selection. Authors of the program: Golev S.V, Adjunct Professor of Psychology, Goleva O.S, Master of Psychology.
The material was developed within the framework of the program "Psychodiagnostics in Excel".

The test includes and describes the following scales:

Social compliance.
Emotional compliance.
Behavioral Compliance.
General compliance.

This diagnostic technique is designed for patients with chronic diseases, requiring periodic follow-up by the doctor and prolonged treatment, and for checking the degree of compliance in healthy people.
Addresses professional psychologists and doctors, as well as students of psychological specialties and specializations.

No feedback yet