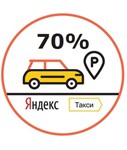 Promotion Code issued only in one hand and can be used only one time.

Promotion Code is valid till 28.02.2018

The maximum aggregate discount amount for the first 3 trips is 300 rubles.
If you have already made their first trip to the Yandex taxi, this Promotion Code does not work, it is only on the first trip.
The difference between the cost of the trip and the amount of discounts, as well as the amount itself is not paid in cash Discounts.
All that is above par with the Promotion Code, paid cards or cash to the driver.

03.02.2018 13:44:16
Всё отлично, благодарю)
27.12.2017 23:11:26
Нормально промики работают в Омске !!!
20.12.2017 12:34:01
Все отлично, код рабочий, спасибо.
08.12.2017 17:50:09
Верить ни кому нельзя.кругом развод.купил промокод на скидку 70% на первую поездку в Яндекс такси.сумма поездки 1500р.максимальная скидка 300р.Где скидка 70%???
01.11.2017 13:12:24
Не подошел