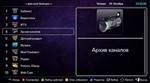 Playlists from "sweta1979".
This thematic playlists for the Russian-speaking population of Europe.
Playlists can only be opened in the widget "nStreamLmod_v.3.x" on devices Samsung SmartTV.
With the contents of the playlists You can find the test by activating the "Cabinet".
The website of the project : "sweta1979.club".
We do not broadcast any channels, and do not keep any prohibited files on our server.
Our playlists is just a handy lists of different sites and other open sources tailored to Your device.

Here You will:
- Video library,Youtube,Rutube,VK.
- A set of archives-to-air channels.
Bonus-TV.*
- Children´s section,Music,Radio,Humor,WebКамеры.
Service for the installation of widgets.**
- Service for viewing on Your device the common European toll providers.***

*Set of IP-TV channels are freely broadcast on the Internet and we do not responsible for their composition and quality.
**Only works on devices 2012-2014.
***You must have paid your account.

Access to the playlist for 6 months - 480 rubles.
Access playlist for 12 months - 960 rubles.

After gaining access to the playlists You will be activated full version widget "nStreamLmod_v.3.x" on life support playlist.
Immediately after payment you will receive a form to fill in the registration data, which will need to fill in the following fields:
- E-mail address (email);
- MAC of your device;
These data will be transferred to the seller to complete the transaction of purchase and sale of goods.
17.10.2018 18:27:48
alles ist Super
11.10.2018 21:27:34
Спасибо вам всем за ваш труд. Очень благодарна
08.10.2018 18:12:37
Спасибо!!!
01.10.2018 21:59:10
спасибо ! всё работает !!!
30.09.2018 16:40:21
оплатил поддержку на год мне нравится
29.09.2018 21:36:56
spasibo, vse ok
26.09.2018 15:17:12
Быстро и удобно.
22.09.2018 22:05:40
Спасибо большое!
15.09.2018 13:37:54
Очень удобная платёжная система . Большое Спасибо!