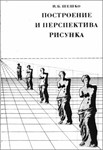 Book IB Sheshko "Building and the prospect of drawing", a textbook for students, released in Minsk in 1973.
The PDF file, scanning all pages, a direct link to download the file.
From the summary:

By consistently and effectively introduces the reader to the construction of the figure, from the description of the workplace and the materials for the pattern transferred to the basics of perspective drawing, the construction of cylindrical and conical objects, shaders, rolling nature and, finally, gives an introduction on linear perspective. The manual is richly illustrated.
No feedback yet