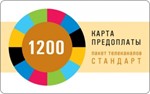 Map of the nominal value of 1200 rubles of payment allows you to pay packages "Standard" and "Standard East" operators "Telecard" satellite, "Continent TV", "Orion Express". ALL REGIONS.
Activation on page
http://pay.telekarta.tv/prepaid/
I would be grateful for your positive feedback
08.08.2018 17:52:37
Спасибо! Все быстро!!!
17.03.2018 19:24:32
Спасибо. Всё оплатил!