Content: 30924202258973.rar (3.01 MB)
Uploaded: 24.09.2013

Positive responses: 4
Negative responses: 0

Sold: 28
Refunds: 0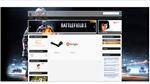 Play-sky.ru template for the new version Digiseller new

-Easy Installation

-Vstroen Slideshow

-Comfortable And pleasant interface

-Zarabotok On advertising

-Good Browser-based search systems

PS This template is suitable for newly registered users Digiseller.ru

Since new users can set the product only means XML.

Keep this in mind when purchasing a template!




For the script You must be logged on digiseller.ru. Learn your ID, you can in the Personal Account - Registration number (id agent). Detailed statistics of sales through your store will be reflected in the Accounting, there you will be able to withdraw the money earned.
13.03.2016 20:47:17
не работает
18.10.2015 11:23:39
Спасибо))