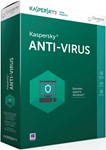 !!! Instant delivery !!
License to use Kaspersky Anti-Virus 2018 1 year 2 PC EXTENSION (Russia + SNG)

You get a registration key immediately after payment window after the payment. Will also receive a link to your personal cabinet displaying all your keys purchased on site.


Kaspersky Anti-Virus - is the solution for the base protect your computer from the main types of Internet threats

Malware protection. In Kaspersky Anti-Virus includes the latest security technology to major malware, including the exploits that use vulnerabilities in operating systems and applications.

Checking the reputation of the program. Feature allows you to instantly check the safety of any executable file on your computer. Current information about the reputation of the program comes in real time from the "cloud".

URL scanning module. You can be sure of the safety of any site to which are going to go. Links to suspicious and dangerous resources are automatically marked with a special color indicator.

High speed. Thanks to cloud security technologies, intelligent scanning and compact installation of anti-virus updates work on your computer virtually invisible.

Compatible with Windows 8.1.

Kaspersky Anti-Virus is fully compatible with the latest operating system Microsoft - Windows 8.0 / 8.1, and supports the latest Microsoft innovations in the field of IT-security.
29.01.2018 22:37:39
Отлично
02.01.2018 16:47:59
Спасибо - ключ получил.
18.09.2017 12:50:46
всё отлично
16.11.2016 21:19:53
Спасибо, всё прекрасно. Лицензия активировалась. Базы обновились. В магазине карточка стоит в два раза дороже. Вячеслав г.Тирасполь
03.11.2016 14:41:28
Товар получен.
07.10.2016 16:17:50
всё работает, отлично
01.06.2016 20:20:09
Все подошло.
17.05.2016 15:42:37
пришло все вовремя, активировалось без проблем
25.03.2016 20:33:25
Все отлично и моментально